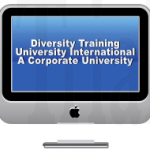 DTUI.com offers courses that support continuous learning and professional development through Diversity Training University International, which is our free-standing DTUI corporate university. The university was founded in 1998 to train HR professionals to proficiently lead cultural diversity initiatives. In 2009, the mission broadened to provide human resource managers with the proficiency to address civility, collegiality, and community in organizations.
Does DTUI offer

courses

?
Yes. DTUI courses are available in online and face-to-face classroom settings. The courses represent a range of competencies needed to manage organizations, measure initiative and training results, plan for strategic organizational change, maintain EEO compliance, and promote civility, collegiality, and productive communities.
Do You Conduct Training for Organizations?
Yes. We offer our own courses and those tailored made to meet client specific needs. We can offer our own popular courses or collaborate with the client in the design and development of a course tailored to suit the organization's needs. We also offer online continuous education course packages that can include our full 1000+ set of modules or a subset based on the organization's needs.
Click Here for a list of our popular courses.
The following is a list of other DTUI.com offerings:
Diversity Leadership Academy
The Diversity Leadership Academy educates and trains executives who can work across cultures and lead effective institutional change initiatives to increase inclusion, engagement, and productivity. The first two courses include our signature Certified Diversity Professional (CDP) credentialing program offerings: CDP Level 1 & CDP Level 2. Upon completion of the full set of additional courses, the graduate is designated CDP II.
Certified Diversity Professional (CDP)
The objective of the popular Certified Diversity Professional program is to provide professionals with competence to lead cultural diversity initiatives, identify talent, and design and develop high impact training.
We Can Do This
This continuous learning resource offers a knowledge base (Diversitypedia), courses, and professional community for professionals who seeks get to the next level. The content and learning activities promote next level training, leadership, recruitment, retention, problem solving, and community building resources.
Learn more about the courses and other offerings . . . .
Diversitypedia
This database of materials include definitions, lessons, courses, and other materials designed and developed to support just-in-time learning and continuous learning. Diversity managers, chief diversity officers, trainers, and human resource managers will find this an invaluable resources that grows by the day.
Library Resources
Diversity Officer Magazine
This resource promotes evidence based cultural diversity resources for human resource managers, diversity officers, diversity managers, trainers, and organizational development professionals.
Contact Us