HOW TO CAPTIVATE EVEN THOSE WHO ARE MOST
RESISTANT TO CULTURAL DIVERSITY
Spend a little time with us  . . .
People will start talking about you.
Ask . . . .
Francine Small, VP CDP of Cook Medical Group
David Belton, CDP of the National Reconnaissance Office of Diversity
Geraldine Mobley, PhD CDP, George Mason University
Kenneth Hunter, CDP of New York City Department of Information Technology & Telecommunications
Carla Grantham, CDP of the United States Coast Guard Diversity Office
Join our mini-Course. It's Complimentary
Simply sign up below to receive access to the mini-course. It is Free of Charge.
Here are Results You Can Expect Without Expert Training & Credentials:
Bootstrapping your success the best that you can.
Picking up a little information here and a little there.
Risking being unprepared for the landmines in the profession.
Relying mostly on implementing diversity best practices with low impact results.
Questions about what your credentials are and where you received them.
RESULTS AFTER RECEIVING YOUR CERTIFIED DIVERSITY PROFESSIONAL CREDENTIALS
Have credentials from a vetted organization that you can show off.
Have a Toolkit for success.
Have a guidebook and framework to succeed.
Have the tools to on-board even the most resent to diversity & inclusion
Understand how to assess an organizations inclusion gaps.
Understand how to design, develop, and implement a diversity initiative.
Understand what is needed to sustain a diversity initiative
Have tools to successfully marketing your diversity initiative plan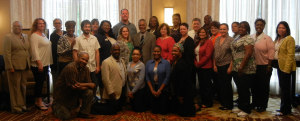 YOU HAVE COME TO THE RIGHT PLACE IF YOU ARE . . . .
New to diversity and inclusion work, but understand that it takes expertise you want to learn.
Feeling you need expertise to get the best results.
Fearful that people will not take you seriously without credentials.
Wanting to jump start your diversity and inclusion work to get high impact results
Feeling uncertain how to get to the next level with your organization's diversity and inclusion initiative.
What We Will Cover in the Mini-Course
Diversity Best Practice Resources and Strategies
Training and Instructional Design
Metrics & Assessment
Engagement and Inclusion
Online diversity training & diversity activities
Much, much, more . . .
These recent graduates are making waves:
Karen Cheney, CDP Office of the Director of Intelligence
Kimberly Simmons, PharmD, MBA CDP of St. Louis College of Pharmacy
Christine J. Caston, CDP of the United States Navy
So, come hang out with us. Sign up and we will send you the details about how to join us right away.
Billy Vaughn, PhD CDT CDP
Sign Up!