"Have FUN and Get Your Creative Juices Flowing While Learning Diversity Professional Strategies That Transform People and Organizations…"
Don't Forget to Check Out the FAQs Below
Follow this link to register for a course.

Want to Keep Updated?
Sign Up to Get the Calendar and Updates. We Are Committed to Honoring Your Privacy!

Diversity Certification
The cultural diversity certification program immerses you in the art of designing high-impact cultural competence education. You may put CDP (Certified Cultural Diversity & Inclusion Professional), CDT (Certified Cultural Diversity & Inclusion Trainer), and CDE (Cultural Diversity Executive)  at the end of your name upon completion of each training. The Cultural Diversity & Inclusion Executive (CDE)™ is the highest level of credentialing in this certification program. You will learn strategic diversity initiative design, data-driven decision-making, training module design, and implementing bottom line driven solutions. The result is that upon completion of the CDE training, you have a hot, authentic toolkit and strategy ready to put in action as soon as you get back to the office.
You can put the credentials "CDP" at the end of your name upon completion of the first required course DELA 100 & one of two other courses: DELA 200 or DELA 300.
The corporate Diversity Officer is often placed in the role after serving in EEO, HR, or even
an unrelated job role within the organization without specialized training or adequate preparation.
Another required course towards the CDE is DELA 400 Diversity Training Facilitation Skills. Upon completion of DELA 400 & 200 (Training Design & Development), will be an additional requirement starting Fall 2017. you can place CDT at the end of your name. This course provides training in delivering impactful and engaging cultural diversity training.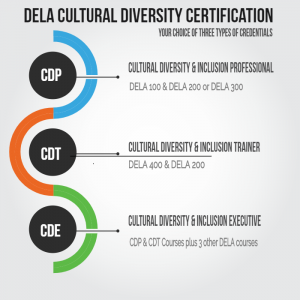 More information about the list of the other CDE courses can be found by Clicking Here.
You will:
Discover the easy-to-follow strategy to

boost your organization's productivity
Identify and retain the

best talent
Learn how to increase

innovation
Learn how to use differences to

boost your team's productivity
Learn a proven model for

managing resistance

to your cultural diversity initiative
Boost your popularity as the in-house and external cultural diversity expert
Map out the most important parts of your strategy along with a group of like-minded professionals. In fact, bring as many team members as possible to work on your organization's project during the seminar. You will leave on the same page and with a framework for moving forward quickly together. We can also come to you. Ask us for details.
Learn to design and develop cultural diversity training modules
Add more SIZZLE and authenticity to the initiative you design so everyone wants to come aboard.
Learn how to use our proven technique for getting the leadership on board by discovering the impact your initiative on the organization's bottom line
Create a unique, MAGNETIC presence as a cultural diversity professional so you stand out and get noticed
Burst through your strategy blocks in a supportive community that brings out your hottest ideas
Have FUN developing your strategic roadmap (Imagine that!)
Discover how we tend to get in our way as experts and how to clear the path to success
Powerfully express your value with language and wording that make you proud.
Come away with clear, confident messages about you diversity and inclusion initiative to skyrocket the time to success
We know you're concerned that people in your organization either do not see you as an expert or appreciate your expertise. You need them to recognize your value without your having to jump through hoops to get them on board. Even if you are fortunate enough to have the leadership's full support, changing the organization is a real challenge. Getting everyone else aboard is like herding cats.
What is a diversity certificate and how is it different from certification?
Most certificate programs cover diversity practices instead of how to avoid the inevitable landmines inherent in the work and how to change an organization from its current state to higher stages of inclusion. Our certification program offers you knowledge and skills that propel your expertise to the next level.
Many professionals are new to cultural diversity leadership roles. They were often at the top of their game in another job role (e.g., training, human resource management, etc.). The new role leaves them feeling overwhelmed once they discover how under-prepared they are to take on the diversity leadership role. Years of human resource management experience, for example, increases the ability to understand how to keep the organization in compliance, curtail turnover, and develop policy driven initiatives, but not the expertise needed to manage resistance and complacency to cultural diversity initiatives.
Diversity leaders need a detailed, well-tested system to start moving your organization immediately and the techniques to get them to the finish line. Even the seasoned professional needs continuing education especially training that offers next level solutions. A few cultural diversity certification credentialing programs have sprung up since DTUI.com started training professionals in 1998 as Diversity Training University International. We continue to be the choice for those seeking solutions that they can utilize immediately upon returning to the office. 
You can trust that our Certified Diversity Professional credentials will offer you expertise and value along with practical tools. And you really don't want to reinvent the wheel or use outdated, untested tools and techniques that will shortchange the amazing value you offer in your role. That's why we're so excited about showing you a powerful step-by-step strategy.
Who can benefit from diversity certification training?
Those who are responsible for:
Managers and supervisors

Military diversity recruitment and retention

diversity and inclusion leadership

Government diversity recruitment and retention

diversity management

human resource managers

diversity training

Supplier diversity

Cultural diversity council members

Chief Diversity Officers

equal opportunity advisers

sexual harassment & assault experts

Diversity managers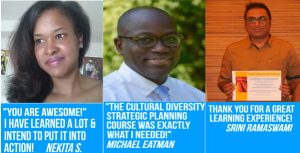 FAQs – Common Questions About Diversity Certification and the CDP Program

What is diversity certification?

Diversity certification refers to the credentialing of professionals to serve in executive level diversity and inclusion leadership 

roles.

What is a diversity certificate?

The diversity certificate implies less training and time commitment. Certification implies credentials, which necessarily is more than a two-day weekend. Higher education institutions are reluctant to offer certification because they compete with the degree programs offered. So, these organizations offer certificate courses. For the Society for Human Resource Management (SHRM), certification implies that a professional has demonstrated competency in knowledge and skills. DTUI.com offers the certification credentials as a free-standing corporate university.

Who should receive diversity certification? Anyone who wants to serve as a diversity professional or who is in the role and values credentials for professional recognition typically seek the CDP.


What is the difference between the CDP & CDT?

 The CDP, or certified diversity professional, training best suits the individual who wants to learn about how to lead a cultural diversity and inclusion initiative either as an in-house or independent consultant. The CDP focuses on strategy and particularly using organizational change methods. The Cultural Diversity & Inclusion Trainer (CDT)™ certification 

is for the professional interested in primarily serving in a trainer role. The training covers high impact facilitation skills for managing hot topic discussions, managing emotional reactions to diversity and inclusion, and keeping the audience engaged.

What is the difference between credentials that require passing an exam and those that require passing courses?

 DELA focuses on developing your cultural and inclusion competencies. This requires training that covers awareness, attitude, knowledge, and skills. A test that assesses how much you know, does not reflect competency in the range of things you need to change organizations and avoid cultural collisions. Preparing you for an examination does not prepare you for the work. Our position reflects an instructional philosophy for training inclusive professionals than a criticism of test-taking credentialing. Increasing the number of competent, credentialed professionals is what we share.
What are the diversity certification requirements?

A number of training programs exist today compared to when DTUI.com started offering certification in 1998. What the programs have in common is the goal of providing participants with diversity leadership competency. Programs differ in philosophy, the length of time to completion, and prestige. 

We emphasize classroom experience similar to a learning lab to foster applying what you learn. Many programs are either academic in format or require completing study materials followed by passing a written test of knowledge. Our adult learner approach offers participants opportunities to apply what they are learning. This enhances transfer to the real world.Ask us about how we commit to the development of your expertise after the class is over? You will be both impressed and encouraged.


What does the DTUI diversity certification program include?
Click Here to learn more!
Is there an online version of diversity certification training?
As a matter of fact, there is. Click Here

to learn more!

What is the cost?

 The cost depends on which course or program you register for. Click Here to learn more about pricing or cut and paste this link into your browser – https://dtui.com/diversity-certification/dela/#pricing
Is there a payment plan option for paying the registration cost over time?
We are pleased to announce that a payment plan is possible through our partnership with PayPal Credit. It allows you to pay in installments and with a no interest charge option. Click on the link below.


How long does it take to receive the certification?

If you prefer the CDP credentials, it can take no more than completing a four-day course in the classroom format. You will have to complete the course satisfactorily, of course. There is an online version which can take from six weeks to three months depending on your time commitment. The CDT will require the completion of two courses starting Fall 2017. The first part can be completed online followed by three days in the classroom. The CDE takes the longest. It requires completing 6 courses. See https://dtui.com/diversity-certification/dela for more information.

*What is the difference between the CDP and CDT? 

The

CDP

focuses on developing your ability to lead a cultural diversity initiative. The

CDT

 focuses on developing diversity training design and development as well as facilitation skills.

How does this program measure up to the other diversity certification training programs?
We suggest that you read Selecting the Diversity Professional Credentialing Program which reviews the most well-established programs to learn more.

Can you make a living as a certified diversity professional?


We suggest that you read 

What is the Diversity Officer Salary?
| | |
| --- | --- |
| | |
Please Join Us to Become a Certified Diversity Professional!
Author: Billy Vaughn
The Sessions Tend to SELL OUT QUICKLY! Register NOW to Reserve Your Seat!
Qualify for a Scholarship? Click on this link DOM – DELA Scholarship Program 2017 to learn more.
3 Ways to Register
Call +1.415.692.0121 to register by phone or credit card payment.

Fill out, save and email a pdf form to our secure email address. Click Here to fill out the form.

Fill out the form below.