The Cultural Competence and Inclusion Gap Analysis Approach
Are you looking for a tool that can assess your organization's current cultural competency challenges? Want to save money on conducting an assessment? Can't find an easy to use assessment tool? Want to directly relate your assessment results to training and policy needs?
If your answer is yes to any of the above, you will find DTUI's Organizational Inclusion Assessment (OIA) system a useful resource.
Well-Tested Diversity Benchmark Tool
The OIA Toolkit has been used repeatedly, and survey items have been changed over time to increase reliability and validity based on statistical analyses. This increases validity (i.e., the items are assessing what participants expect them to) and reliability (i.e., the tool consistently assesses what it is designed to assess from one situation to another). In fact, the results of one university's inclusion assessment were so impressive that the lead person was invited to present them at a 2007 higher education assessment conference.
Identify Your Organization's Inclusion Stage & Cultural Competence
Unlike most other assessment tools, the OIA is developed to identify an organization's stage of inclusion based on our proprietary model. The manual describes the model, its utility, and how to identify the stage along the developmental continuum (see figure below). The result is that you have a clear idea about where your organization is, the cultural competence gaps it needs to address, and the suggested interventions to move towards higher stages. This makes our tool stand out.DTUI.com uses its own Organizational Inclusion Assessment (OIA) toolkit, which includes a survey, Key Informant Interview forms, Archival research forms, and Focus Group Interview items. Data from all four methods converge in determining the overall stage of inclusion an organization is currently in.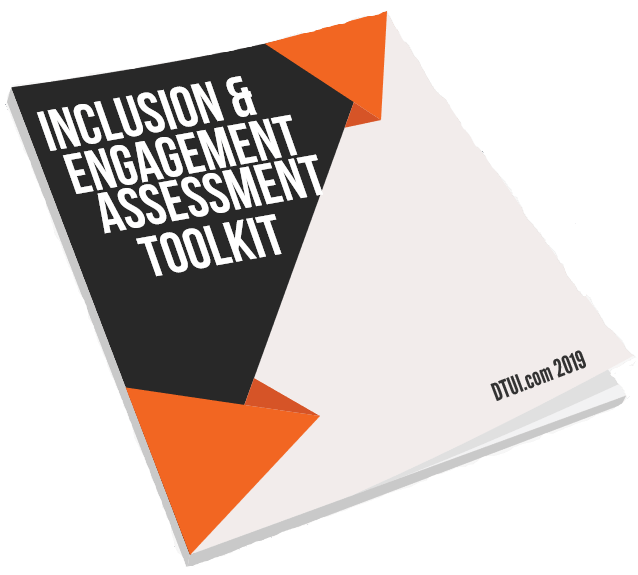 The following samples are provided in your full assessment report:
Survey
Human Capital Survey
Key Informant Interview forms
Blended learning experts
Archival research forms
Focus Group Interview items
Key Benefits:
Easy paper & pencil or online survey access. An online survey can be housed on your organization's website or we can host it.
Interviews conducted via phone or in-person
Flexible
Inclusive approach
Cost-effective
Well- tested
Organizational assessment is one of the most expensive, yet crucial parts of developing a high impact diversity initiative. The result is that many organizations either do not assess or do so in a limited way. We can help bring down the cost and provide you with one of the most effective tools for developing diversity education available.
Use the Order Form below to purchase now and receive your purchases in minutes:
You will be redirected to the download page to access your purchase. Have fun with it!
Here are some popular questions about the toolkit with answers for your convenience.
That depends on how many participants the assessment aims to receive responses from and whether your organization or DTUI will perform the work. Please contact us for more information.
Yes, the survey assessment is designed to be conducted online as well as by paper and pencil. The interviews can also be conducted virtually or in person.
Yes, we have a client organization with eighteen employees. They conducted the assessment twice - two years apart. We compared the results to show improvements from the first to the second assessment administrations.